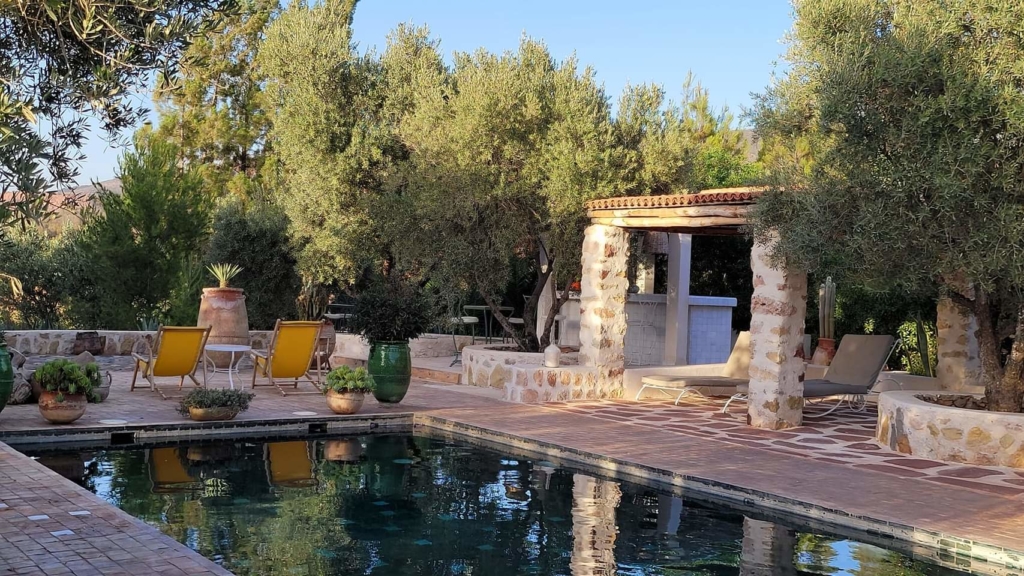 Sel d'Ailleurs
Sel d'Ailleurs, a bed and breakfast on the old roadleading from Taroudant to Marrakech, is located in the village of Marigha (in Berber, this means 'village of salt'), 59 kms from Marrakech.  It gets its name from the salt flats which surround it and which are in production to this day.
Sel d'Ailleurs is a bed and breakfast that is part of a magnificent, mountainous landscape, a magical place where meditation and relaxation are king and where peace and quiet envelop you, far away from the city crowd.
Sel d'ailleurs is ready to accommodate guests in accordance with recommended sanitary measures.  Thanks to its architectural layout, our hotel is the place to guarantee you a safe stay with the highest standards of hygiene and social distancing.  Wide avenues through the garden lead to eight bungalows, each with its own terrace, dispersed among an olive grove of two hectares.  A secluded swimming pool surrounded by four private pergolas and a sun deck offers the ideal distancing for guests looking for sun.  The principle building has a 400m2 terrace with a view of the garden and the High Atlas.  The tables are arranged according to present standards, offering a pleasant distance at mealtimes.  Disinfectant hand-gels and face masks are available to our guests in public spaces and in the rooms.  Our attentive staff, equipped with protective masks and gloves, eagerly awaits your visit!
"Our mission is to create a serene atmosphere and a warm welcome"
(We have half board which is included in the price of the room: dinner + breakfast)
Double room with half board: 1640 DH TTC
Single room half board: 1440 DH TTC
(all taxes included)
[/fusion_text][/fusion_builder_column][/fusion_builder_row][/fusion_builder_container]